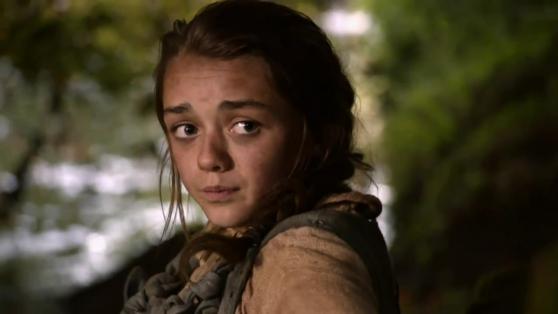 Maisie Williams in HBOs Game of Thrones
In the house of the Many-Faced-God, a meeting is conducted between eleven of his servants. Arya and another acolyte stand by with water and whine, ready to serve. The servants are talking in hushed voices, telling each other names and stating whether they know him or not. People they don't know they declare to deliver the gift to. After the meeting, one of the servants lingers, a man with a face full of marks of a plague. He talks to her, asking who she is, calling her a liar when she tells him that she's no one and hitting her when she chews her lip. He asks her if she wants to kill, and chides her when she is not certain. He tells her she is too proud to serve, which she declines.

He tells her that if she wants to serve the Many-Faced-Gods, she needs to give up everything. Arya states that she wants to be able to change her face, to which the man replies that this ability needs to be earned. She is asked to kill someone, and the next day, she starts observations as Cat of the Canals. As the days go by, she discusses the case with the kind man, trying to find out why someone wants the man dead. In the end, however, the conclusion is that it doesn't matter and that she has to bring the gift, period. Watching the victim, she learns that he is in the insurance business, insuring ships against going down and thereby giving the widows a possibility to live on - if he doesn't cheat them.
Arya tries to find out how to do the deed. The victim always has two bodyguards with him, and the objective is to kill no one but the victim. After three days, she knows a way and tells the kind man she is ready. He leads her down into the sanctum of the temple, where she wasn't allowed to go before. In a big hall, thousands of faces are put upon the walls, and Arya realized that they are cut off the dead. She fights down her initial dread and is prepared for her new face, which, as the kind man announces, will be ugly so that no one connects her to Brusco. Her face is cut; then she has, bleeding all over her face, to drink from a tart juice, before she gets another face put over hers. After a feeling of choking and death fear, it surprisingly feels like her own, but she now looks ugly, with broken bones and missing teeth.

Training her abilities with the finger knive, she prepares for the kill. She observes the location where the insurance man conducts business, and when a merchant he often trades with walking on a crane comes by, she sneaks up behind him and cuts his purse, making a botch of it, losing the coins and having to run. She escapes and goes back to the temple, where she reports the deed done. The kind man says that she learns, and that the outcome is acceptable, and that she will start her first apprenticeship at Izembaro's. Asked who she is, she replies no one.

This chapter is a really interesting one in terms of writing technique. Although it is written from Arya's point of view, Martin evades to explicitly state what she is doing, using time jumps for it and, most of all, clogging the reader's attention with a great amount of detail, burying the important stuff and hiding it for anyone but the most careful reader. Many people, me included, didn't understand how Arya killed the insurance guy at the first read (she poisoned a coin and switched it with one of the merchant's, so the insurance guy who always bites the coins dies). It is also interesting that many persons in the Arya chapters don't have names, but go by attributes - the kind man, the waif, the ugly man, the ugly girl, and so on - thereby taking a bit humanity from them. The same goes for their victims. Only innocent and nice people like Brusco or the mummers have names.

We can witness how the servants of the Many-Faced-God work in this chapters. They're professional assassins, that's for sure, and Arya is a quick learner. The question is where her journey, her personal story arc are leading to. Many people have tried to guess what victim she might be chosen to kill. My bet is on someone very sympathetic not only for us but also for her. This would certainly suit the drama and her story so far. Who better to kill than someone beloved if you want to prove that you are truly no one? Characters like Bran, Rickon, Jon Snow or others are very likely candidates to be targets for Arya. It is rather unlikely that she will get Cersei, Jaime or someone like that as a target since it doesn't add the human drama the series thrives on.

It remains unclear what the next station of her training, this "apprenticeship", will be. I never heard the name of Izembaro before, perhaps someone can enlighten me. Another problem still unsolved are the great periods of time Arya's story covers. She has to be in Braavos for much more than a year now, and that definitely brings her ahead of the main story line. I don't know how they will merge in the end, or if they will at all. It is also possible that Arya's development will take a darker turn in the future, proving the title of this chapter to be right in more than the apparent visuals. Arya still tries to justify the kills that she is asked to do, but soon that will fade, given the success of her training so far. The most likely way I see to escape the ideology and life style she currently is tied in is Nymeria. If Arya travels to Westeros at some future point, she may connect to Nymeria, the other wolves and her siblings, and thereby becoming aware of herself again. One thing is certain: should she do the transformation completely, she won't really be a character of herself anymore, but just a tool - nothing you want to read about in POV-perspective. Somehow, I don't believe that will happen.

As to side notes, isn't it weird that Arya invents the same assassination method that Jaqhen H'qar uses on Pate in the Prologue of "A Feast for Crows"? Two hearts that beat as one, so to speak.